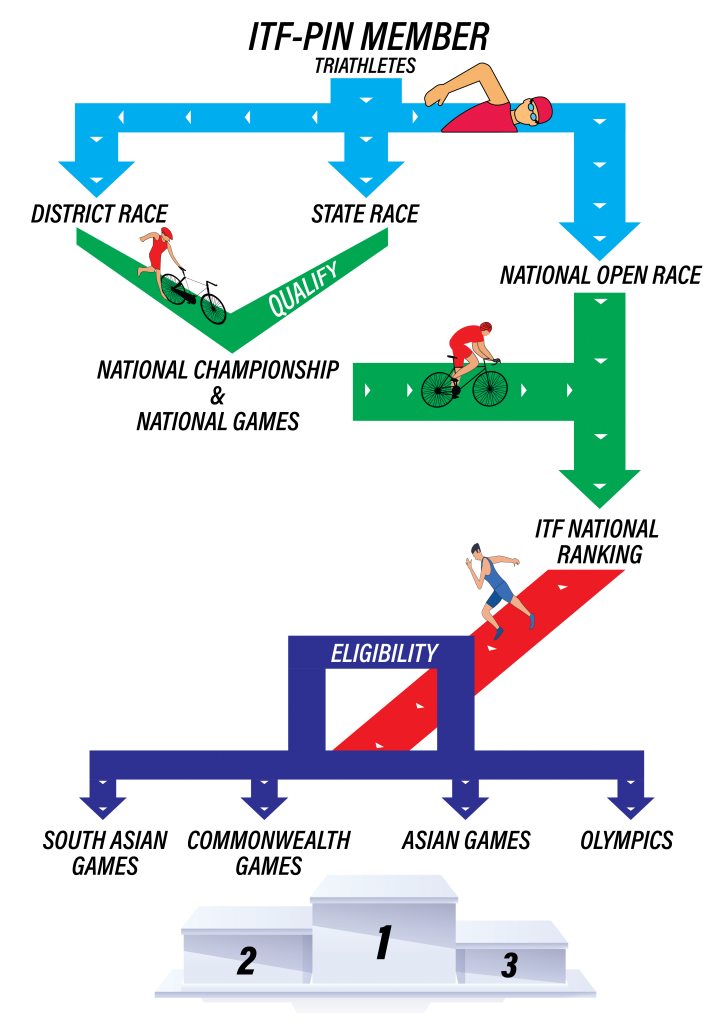 CRITERIA
Only Indian citizens with Indian passports are eligible to represent India.
Selection criteria for National camp + International participation
Top 4 elite men + 4 elite women with the best timing during qualification events will be selected for high-performance camps.
Subject to government funding, we aim to support selected athletes to participate in World Triathlon events with Mixed Relay/Olympic/Sprint distances.
Selection criteria for Commonwealth Games & Asian Games 2022
We see a potential to finish top 6 at the Asian Games and top 10 at the Commonwealth Games mixed relay events.
We aim to select the 2 best elite men & 2 elite women from the camps. Additionally, 2 elite men & 2 elite women will be part of the squad as reserves.
SELECTION COMMITTEE
Selection of Indian Team will be based on ITF National Rankings and performance at National Championships. In case of non-occurrence of the National National Championships or non usage of Ranking system due to unforeseen reasons, the Selection Committee selects the individuals /Teams to represent India in International events. Other factors like the performance of the players in District & State meets, the physical fitness tests, the attitude and the discipline of the athletes may also be considered for the selection of the triathletes to represent India in International events.
THE COMMITTEE ALSO CONSIST OF
The President/ General Secretary of the Federation
Women's coach
Men's coach
An eminent ex- sportsperson